Make your choice the right choice. This was the message from Dr. Robert Colbert, the keynote speaker at the annual Office of Physician Scientist Career Development Colloquium, held on April 15 this year. Dr. Robert Colbert is the current Acting Clinical Director and Chief of the Pediatric Translational Research Branch of the National Institute of Arthritis, Musculoskeletal, and Skin Diseases (NIAMS). Dr. Colbert presented his keynote address to a full audience of MD students, MD/PhD students, and faculty. During Dr. Colbert's keynote, he discussed the paths and choices he took toward becoming a physician-scientist, the differences between his time in traditional academia versus his current position at NIAMS, and the importance of finding both formal and informal mentors along the physician-scientist training path.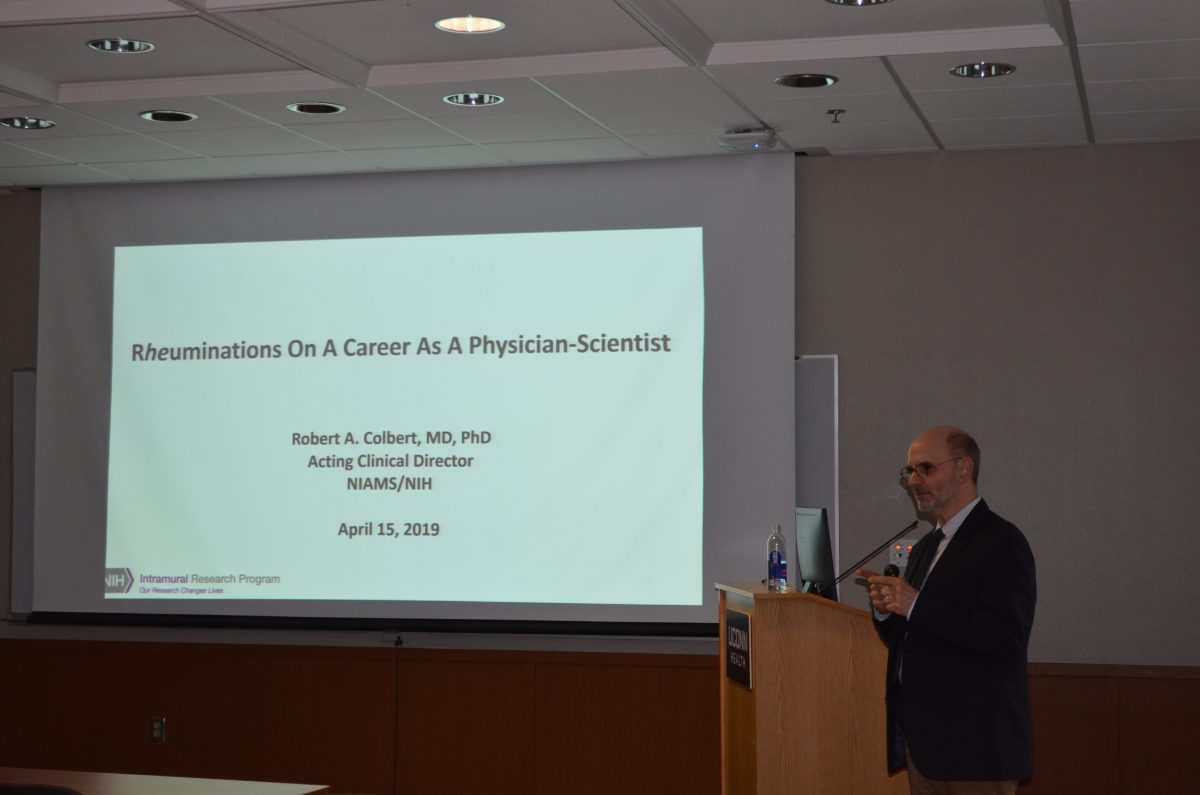 Dr. Colbert is a nationally recognized physician-scientist who has successfully built a career in translational research, balancing both clinical research and duties while simultaneously running a productive research laboratory. Prior to joining NIAMS, Dr. Colbert started his faculty career at Cincinnati Children's Hospital Medical Center, where he eventually become Director of the Division of Rheumatology. While at Cincinnati Children's, Dr. Colbert was also heavily involved with the University of Cincinnati College of Medicine's Medical Scientist Training Program, for which he served as Associate Director. His training as a pediatric rheumatologist has shaped the goals of his research laboratory, which focuses on understanding the pathological basis of chronic inflammation and structural bone remodeling in spondyloarthropathies.
"Dr. Colbert is an excellent example of an accomplished physician-scientist who has utilized both his medical and research training to investigate the basic mechanisms of a debilitating group of diseases while also significantly contributing to the advancement of their clinical guidelines and treatments. His past and current contributions to training the next generation of physician-scientists are abundant." Said Dr. Andrew Arnold, Director of the Office of Physician-Scientist Career Development. "I am thrilled our current students were able to meet with Dr. Colbert and learn more about his own training path plus his insightful perspectives on upcoming decision points for them."
Dr. Colbert also discussed specific training opportunities at NIAMS, on the NIH Bethesda campus, for trainees at all levels, including undergraduate students, medical students, and clinical fellows. These opportunities include a year-long research scholars program, postbaccalaureate fellowships, summer internships, clinical electives, and fellowship training.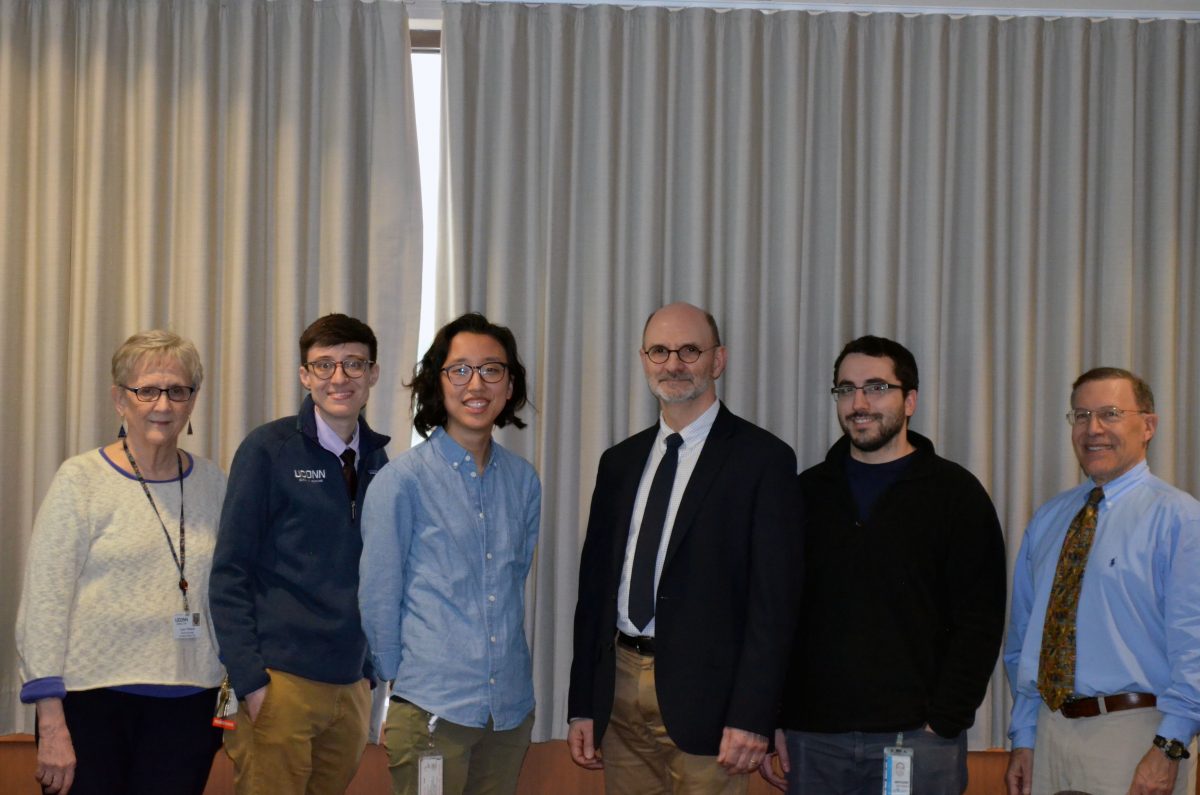 Grace Kwon, a student member of the OPSCD Colloquium planning committee, took advantage of these opportunities as a postbaccalaureate fellow in Dr. Colbert's research laboratory from 2012-2014 prior to starting the MD/PhD program at UConn Health. "My time at the NIAMS was especially informative in helping me to decide on choosing to enroll in a dual-degree MD/PhD program. As a first-generation college student with few, if any, examples of successful physician-scientists, Dr. Colbert was a tremendous illustration of someone with a fulfilling career in this path, and provided critical career advice and mentorship while I applied to MD/PhD programs – he continues to do so and I'm grateful he had the chance to visit UConn Health and meet with MD/PhD students here."
Along with discussing his career trajectory and current training opportunities, Dr. Colbert also spoke about the importance of finding mentors at all stages of a career. These mentors should push you to grow, and do not all have train you in the same style. Some of the mentors Dr. Colbert touched upon in his career were his PhD thesis advisor while at the University of Rochester, his pediatric rheumatology fellowship director, and the past NIAMS Director, Dr. Stephen Katz.
"I appreciate that Dr. Colbert emphasized the importance of mentorship – the road to becoming a physician-scientist isn't one you can do alone, and Dr. Colbert helped me realize that mentors don't always have to be formal; older students in the program, for instance, have been incredibly supportive and important in helping me along the way when it comes to medical school coursework, exams, and now choosing a thesis laboratory in graduate school," said Katie Discipio, a current GS3 and 5th year MD/PhD student.
---