April 2018
"The physician scientist career is a rewarding one where you will grow and be challenged." This was the message from Dr. Stephanie Eisenbarth, the keynote speaker at the annual Office of Physician Scientist Career Development Colloquium, held on April 9 this year. Dr. Eisenbarth is Associate Professor of Laboratory Medicine, and Immunobiology at Yale School of Medicine. Dr. Eisenbarth presented her keynote address to a full audience of MD/PhD students, as well as DMD/PhD students, MD students, and faculty. During her keynote address, she spoke about her own personal experience toward becoming a physician-scientist, emphasizing the importance of mentorship, work-life balance, and enjoying the journey of self-discovery during physician-scientist training.
Dr. Eisenbarth is a nationally recognized physician scientist who has successfully met the challenge of balancing both clinical work and running her own research laboratory. At Yale School of Medicine, she is Medical Director of the Immune Monitoring Core and Assistant Director of the Clinical Immunology Laboratory at Yale-New Haven Hospital. In addition to her duties as a clinical pathologist, Dr. Eisenbarth runs an NIH-funded laboratory that focuses on understanding how the innate branch of the immune system regulates adaptive immunity in several disease models, as well as a more recent focus on the function of dendritic cells and their migration. In addition, Dr. Eisenbarth is an active participant in Yale School of Medicine's Medical Scientist Training Program, where she serves on its committee and also acts as a mentor to current MD/PhD students.
"Dr. Eisenbarth is a great example of an accomplished physician scientist balancing both clinical and research duties. I am thrilled our Office was able to sponsor Dr. Eisenbarth's visit. She is a true testament to the success of how obtaining both medical and graduate training can inform and complement each other." said Dr. Andrew Arnold, Director of the Office of Physician Scientist Career Development. "I am pleased our students were able to meet with her and gain insightful career advice on everything from choosing clinical specialties to managing a laboratory with trainees at all levels."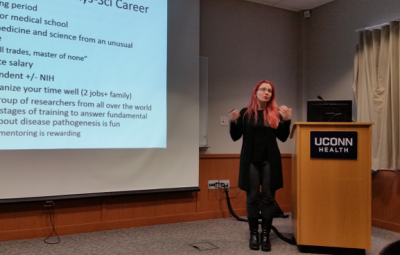 Dr. Eisenbarth also discussed the navigating she went through during her training as a female physician-scientist. Citing a study published in Science revealing how early gender stereotypes and intellectual ability emerge even by grade school, Dr. Eisenbarth urged the next generation of physician scientists to acknowledge implicit biases and find ways to combat this early on in their training. For instance, Dr. Eisenbarth discussed how she practiced asking questions during seminars in graduate school and throughout the rest of her training.
"I appreciated her honest perspective about the challenges still facing female physician scientists today, and that she also gave tangible examples of how she dealt with this throughout her training. Meeting a woman who's been able to successfully lead a physician scientist career is encouraging and motivates me to keep pushing my own education forward.", said Jennifer Chung, a current GS1 and third-year MD/PhD student.
Along with her already established career, Dr. Eisenbarth spoke about work-life balance, sharing photographs of snowboarding with her family, the close friends she's gained throughout her career, and the supportive mentors along the way. Dr. Eisenbarth urged the audience to find mentors early and at all levels. For instance, Dr. Eisenbarth recalled one of her first mentors, a high school chemistry teacher who assigned her the special assignment to wash the dishes. What might seem trivial and not very glamorous, Dr. Eisenbarth now recognizes was actually a profound gesture of confidence and encouragement to push ahead and recognize her own value.
In addition to her keynote address, Dr. Eisenbarth met with faculty throughout the day, and had the opportunity to meet with students from the MD/PhD program over lunch and dinner.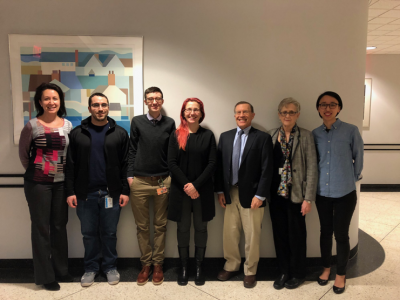 "It was really inspirational to listen to Dr. Eisenbarth's story," said Katie DiScipio, a GS2 and fourth-year MD/PhD student, as well as one of the student organizers of the colloquium, "She is an excellent example of someone who was able to balance clinical medicine, science, and a personal life, something that I aspire to do in my future career."
UConn Health's annual Office of Physician Scientist Career Development Colloquium brings in accomplished MD/PhD physician scientists to speak to the MD/PhD, DMD/PhD, as well as interested MD and DMD students about their career path. While these talks often contain exciting translational research, the emphasis is on advising students how to make the most of their training and how to succeed in this uniquely challenging and rewarding career path.
---