Annie Yao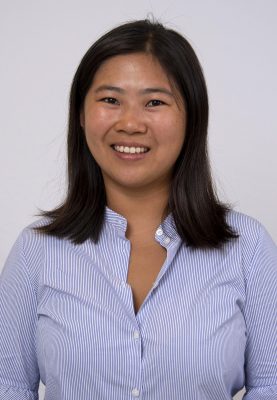 MD/PhD Government: President
Clinical Interests: Neurology, Ophthalmology, Neuro-ophthalmology
Research Interest: Neurodegenerative Disorders
Hobbies: Ballroom dancing/salsa dancing/any kind of social dance, travel, cooking and baking, mixology, health policy and advocacy
What do I like about UConn: One of the reasons I chose UConn's MD/PhD program was the student body, which I found to be both welcoming and supportive from my interview day. I knew that I would quickly find myself at home, and I was right - I've formed lifelong friends, united through our mutual travails and successes throughout the phases of the program. Also, the administration and faculty for both medical and graduate programs are incredibly encouraging, and I've formed incredibly rewarding relationships with clinical, research, and career mentors. Their support has allowed me to truly cultivate and grow my professional interests outside of the lab and clinic, particularly in my passion for health advocacy through the AMA and the Asian American Medical Student Association.
Sadik Karma
MD/PhD Government: Vice President
Clinical Interests: Psychiatry, potentially urology: gender affirming care
Research Interest: Development, mental health
Hobbies: Reading, playing video games, TV, and coloring if the mood is right!
What do I like about UConn: Sense of community is the thing I appreciate the most about UConn. Everyone here is so nice, and I feel like I've made lifelong friends in the short time I've been here. I also enjoy UConn's emphasis on practical training and patient interaction because I believe that will make me a better physician in the future.
Justin King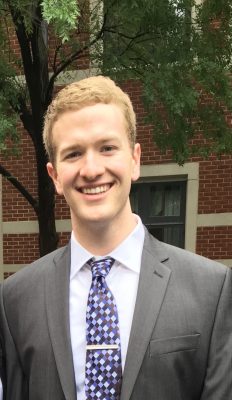 MD/PhD Government: Treasurer
Clinical Interests: Orthopedic surgery
Research Interest: Regenerative medicine, pain management
Hobbies: Skiing, running, hiking, tennis
What do I like about UConn: I choose UConn for its first class research environment, such as our partnership with the Jackson Laboratory and in the Musculoskeletal Institute. Similarly, the clinical training at UConn is highly regarded so I knew I could gain the skills necessary​ to become an excellent clinician. I also like how we are within driving distance to both NYC and the mountains. I enjoy visiting my brother in the city while also being able to easily go hiking or skiing in Maine, New Hampshire, and Vermont.
Keaton Karlinsey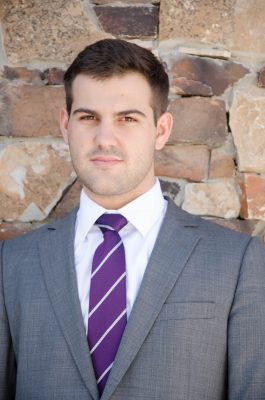 MD/PhD Government: Event Planning
Clinical Interests: Undecided
Research Interest: Immunology, metabolic disease
Hobbies: Camping, soccer, runner, skiing, reading
What do I like about UConn: Both the faculty and other students feel invested in helping me succeed.  I work in a very collaborative environment where I know I can ask anyone for help, and I am happy to help others as well.  I enjoy living in an affordable area with close access to NYC/Boston, mountains, and the coast.
Caroline Guild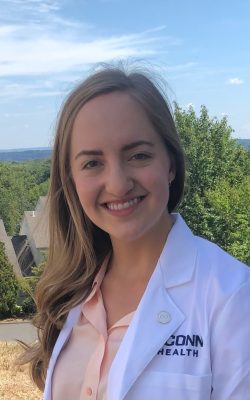 MD/PhD Government Position: Secretary
Clinical Interests: Women's Health, Primary Care, Pathology, GI
Research Interest: Genetics and Cancer
Hobbies: Biking, listening to music, working out, playing with my dog, cooking, painting
What I like about UConn: I was drawn to UConn because of the welcoming atmosphere among students and faculty. In my past two years hear I have found my peers to be supportive, compassionate, and enthusiastic in everything they do. Faculty and administrators are readily available to meet with and take the time to get to know and appreciate individuals whether it be in one-on-one meetings, talking after class, responding to emails promptly and thoroughly, or even going to local baseball games, paint nights, and dinners.
I also love the prime location of UConn Health: it's proximity to West Hartford, short distance from Boston and New York, as well as the abundant network of trails for walking and New England-style rolling back roads for biking.
Isha Walawalkar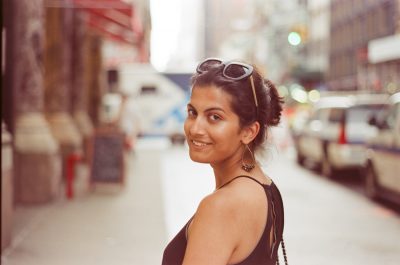 MD/PhD Government: Public Relations
Clinical Interests: Hematology/Oncology, Cardiology, OB/Gyn
Research Interest: Post-transcriptional regulation of transcription in developmental processes (RNA and developmental biology)
Hobbies: Analog/digital photography, trying new cuisines, hiking, visiting coffee shops
What do I like about UConn: UConn fosters a sense of community and collaboration that brings about good science (research faculty implementing cutting-edge techniques and investigating 'hot' topics in their respective fields), and good medicine. Also, Farmington is filled with trees, which I love, and it is not far from home.