Basic Science
Our basic science curriculum spans years 1 and 2 of medical school and is both innovative and integrative. Subjects such as anatomy, biochemistry, and physiology are not taught in isolation. Instead students learn using an organ systems-based approach. As a result, the anatomy, physiology, and biochemical processes of an organ are studied all at once, allowing for efficiency and a greater depth of understanding.
Entering students begin their study of medicine with the Human Systems course that lasts for 38 weeks. The year begins with a presentation of key concepts in biochemistry, molecular and cell biology, genetics, and immunology. After a few months, the organ systems based curriculum begins. Throughout the year, normal human function and form is emphasized.
The Human Development and Health course is taught concurrently during the first four weeks of year one, and as a five week block at the beginning of year two. Students are introduced to the following topics: the health care system, health and behavior across the lifespan, health law and ethics, clinical epidemiology, and the biopsychosocial perspective on health and disease. Students study perspectives of the doctor-patient relationship, the doctor-society relationship and the society-patient relationship.
Phase 1 concludes with Mechanisms of Disease, a 30-week course that focuses on pathology and pathophysiology of the individual organ systems. Infectious diseases, cancer biology, principles of therapeutics, and pharmacology are integral components as well.
Correlated Medical Problem Solving (CMPS)
Throughout Phase 1, basic science concepts are correlated to real-life clinical scenarios through the Correlated Medical Problem Solving (CMPS) course. Using a format of problem-based learning, eight students meet with two faculty preceptors for three hours each week. This course provides the analytical skills necessary to solve the diagnostic challenges of clinical medicine.
The Correlated Medical Problem Solving (CMPS) course takes place weekly for three hours throughout the first two years of the curriculum. The format is problem-based learning, where 8 to 10 students meet with two faculty preceptors to work through clinical cases. The objective of the problem-based learning course is to encourage students to explain the pathophysiological basis of each symptom a patient exhibits and to understand the rationale for each treatment modality. The students fulfill these objectives by analyzing each case in the following way:
Listing key patient information;
establishing learning issues, which are basic/clinical science questions that must be answered in order to develop a good understanding of the patient's symptoms;
studying each learning issue; and
applying gained knowledge to explain the pathophysiology of the patient's symptoms and the rationale for treatment.
Clinical cases are chosen so that their study reinforces and complements the material that is taught in the human systems course. During the second semester of the second year, the approach to problem solving is modified to reflect the greater clinical insight that students are now capable of and to prepare them for the type of problem solving they must master during their clinical experiences. During this "clinical reasoning section," emphasis is placed on the assessment of a patient's problems and on the development of a treatment plan.
Clinical Medicine Course
One of the major strengths of our School of Medicine is the early exposure to patient care. The Clinical Medicine Course is divided into two sections: Principles of Clinical Medicine and Student Continuity Practice.
Principles of Clinical Medicine
Principles of Clinical Medicine I is a one-year experiential course designed to teach first year medical students the fundamentals of being a physician. It is a hands-on course that helps students who are busy studying the basic science curriculum to take what they are learning out of the classroom and into a more clinical context. The first semester of the course mainly focuses on teaching professionalism, ethical principles, office procedures, history-taking skills, and behavioral counseling techniques. The second semester of the curriculum is geared toward teaching students the basics of the physical examination and introduces concepts which include health literacy and community influences on health and wellness, as well as a worksite visit.
We take a very practical approach to teaching the principles of medicine. Our students have the opportunity to practice the skills they learn in class each week on peers and on patient-instructors who are trained to provide specific and constructive feedback. Students also interview in-patients at John Dempsey Hospital and visit our simulation center, where they practice on mannequins that provide exposure to a wider variety of clinical findings. By the end of their first-year, our students have had numerous opportunities to practice their skills in PCM by interacting with peers, patient-instructors, and SimMan (a high tech patient-simulating mannequin), in addition to seeing actual patients in their Student Continuity Practice.
The first year of medical school can be challenging and is filled with many new experiences. Woven throughout the course is reflection and discussion about these new experiences with peers and preceptors who meet in small group settings to enhance professional growth and development.
Principles of Clinical Medicine II
Principles of Clinical Medicine II picks up where the first year leaves off, with the goal of increasing students' ability to interact with patients, families, communities, and members of the health care team effectively. The second year course features a clinical curriculum aimed at enhancing basic skills. The emphasis is on clinical decision making, focused history and physical exams specific to a presenting problem, and advanced exam techniques in order to identify medical problems. Students also continue to develop their oral and written communication skills and solidify their ability to reflect on their learning.
Students gain knowledge and exposure to specialized groups of patients, including pediatric, adolescent, and geriatric populations. Students also learn about the challenges faced by patients through panel presentations by invited guests. Panels include those living with chronic illness, people recovering from substance abuse, and representatives of the gay/lesbian/bisexual/ transgender community. In addition, students gain experience with the different arenas where care is provided by interviewing and examining patients in their homes, in specialized acute care and rehabilitation hospitals, and in nursing homes. These opportunities help to broaden students' understanding of community resources and the community of care providers. PCM-II also focuses on increasing students' knowledge of the social determinants of health, including occupational and environmental exposures, substance abuse, low health literacy, and domestic violence.
Overall, the course provides a dynamic experience that offers a supportive, comfortable community of students and faculty who help to optimize the personal and educational experience.
Clinical Skills Assessment Program
Since 1987 we have run a clinical skills facility at the University of Connecticut. It serves the UConn School of Medicine, Yale University's medical school and many of the schools in Connecticut that prepare students to be physician's assistants or nurse practitioners. We have a 15 exam room facility for training medical students and residents in clinical skills. It is serviced by a computer network for recording and viewing the encounters of students with patient instructors.
Students regularly visit our facility in order to improve their clinical skills through "hands-on" practice under the guidance of clinical faculty. The faculty write cases that match curriculum goals. The clinical skills program encompasses a number of fully-trained Patient/Instructors (PI's) to portray the cases. Throughout the year, students interact with these patient instructors as if it were a real clinical encounter.
The goals of the sessions may include the following:
Enhance teaching in interviewing and physical exam skills
Provide immediate feedback on a variety of skills, including giving bad news or difficult conversations
Provide opportunities to record small group teaching for faculty peer review and support
Feedback from clinical faculty who observe the encounters
Encounters can be reviewed on the internet by both students and faculty
After most cases, students meet with the PI and receive feedback on whether or not they asked appropriate questions, performed the correct physical exam maneuvers, and how well they did on an interpersonal level. This feedback allows for the growth and development of the student's clinical skills.
Patient Instructor Information
Student Continuity Practice
Contact Information
Director
Amy Chmielewski
Phone: 860-679-3118
Fax: 860-679-1097
Email: chmielewski@uchc.edu
Administrative Program Coordinator
Deborah Tennyson
Phone: 860-679-4993
Fax: 860-679-1097
Email: tennyson@uchc.edu
Mailing Address
Student Continuity Practice Program
UConn School of Medicine
263 Farmington Avenue
Farmington, CT 06030-1925
The Student Continuity Practice (SCP) is a three year primary care continuity curriculum that provides students with a longitudinal immersion and mentoring experience in a community based generalist practice. It gives students the opportunity to develop a conceptual understanding of medicine while developing skills in history taking, physical examination, and clinical reasoning. Students are also exposed to personal and professional issues that accompany medical training and practice.
Working in the same physician's office for three years provides students with the opportunity to experience continuity with patients, the office staff, and the physician. In the first year of medical school, students begin to integrate material from their basic medical science classes and the problem based learning curricula with what they are observing and experiencing at their practice sites. The focus of the first year is on history taking, physical examination, behavior modification techniques, health promotion and disease prevention. In the second year, there is an emphasis on pathology, and practice-focused and complete medical histories and physical examinations. With the help of the preceptors, students begin to understand the clinical correlations involved in certain diseases and learn about differential diagnosis and problem lists.
SCP continues in the third year during clinical rotations, a feature of our curriculum that makes it unique among medical schools. Along with the growing body of knowledge and skills, students are given more independence at their sites. Frequently, they will have their own panel of patients. The continuity with the preceptor and office gives students a great sense of security when compared to the changing venues that students experience in their clerkships and outpatient clinics. SCP as a fourth year elective is an option that approximately one quarter of the class chooses.
The 250 community based faculty who participate in SCP include internists, family medicine practitioners, and pediatricians. The retention rates for preceptors have been very high. From the originally recruited cohort between 1995 and 1997, approximately 42 percent continue to mentor students. A majority are in private practice in the urban and suburban communities within an hour's commute of the medical school. A significant number of students work at community health centers that provide students the opportunity to work with underserved populations.
SCP provides a unique experience allowing the student to experience first-hand the realities of medicine, from patient care to health promotion and disease prevention. Students also gain an appreciation for the business of medicine, and the personal and professional challenges that physicians face. In addition, patients at the sites have been very amicable, allowing them to practice history-taking and physical exam skills. The school would not be able to have such a successful program without the generous participation of community based faculty, their staff, and their patient populations.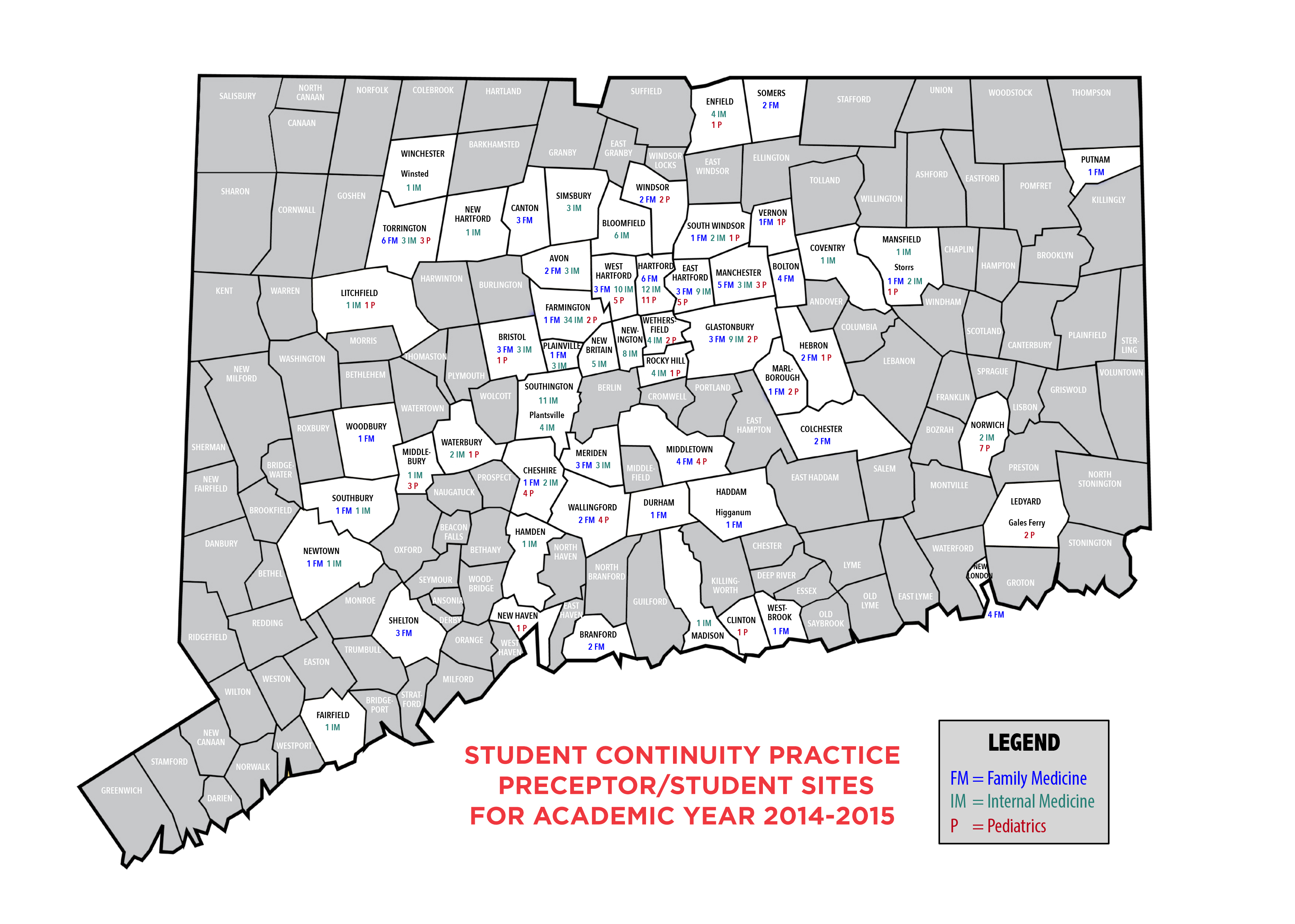 Electives
Phase I electives expand the core basic medical science curriculum. Electives provide additional opportunities for advanced students when the basic curricular materials represent areas of personal strength, and for all students to broaden basic academic skills. Electives also offer opportunities to study an extensive range of bio-behavioral and social issues important to medicine and health, to be exposed to clinical activities, and to participate in biomedical research. Courses in the Graduate School, including the M.P.H. program, are accessible to medical students. Graduate courses at other schools of the University, such as the Business and Law Schools, also occasionally offer courses appropriate for medical student electives. A wide variety of electives are offered throughout the academic year.
Pathology Fellowship
Contact Information
Melinda Sanders, M.D.
Anatomic Pathology
UConn School of Medicine
263 Farmington Avenue
Farmington, CT 06030-3985
Phone: 860-679-2980
Fax: 860-679-4334
Email: msanders@uchc.edu
School of Medicine students may apply for a Pathology Fellowship after completion of the first two years of medical school. Students accepted to the one year program work alongside Department of Pathology faculty in a role similar to that of a pathology resident. Students interested in a career in pathology are encouraged to consider this option. It provides an extremely intense experience, and affords the student a unique opportunity to learn and teach anatomy and pathophysiology at a level of detail and expertise far beyond what is expected in the normal medical school curriculum.